NARTS has created a Recall Tracking Guide for resellers and Safe Crib Guidelines for resellers & consumers.
Please use the links below to access this information in a printable format for distribution.
Thank you for your interest in product safety.
Recall Tracking Guide
Written by NARTS, especially for Resale & Thrift Shops, this guide has step-by-step outlines for creating a Recall Bulletin Board and Recall Manual. It also provides information on establishing a Recalled Product Guide for your business.

Baby Monitor Safety
NARTS is one of a few select organizations invited to partner with the Juvenile Products Manufacturers Association (JPMA) and the Consumer Product Safety Commission (CPSC) in an awareness campaign to alert parents and caregivers on how to properly use and position baby monitors and other line cords in the nursery. Please click the link below for complete information. Resale Shops: please add this link to your Website.
Please use the following links to access printable posters you can display in your store and also distribute to consumers.
CPSC Safety Alert on Baby Monitors
Warning that cords on baby audio and video monitors present a strangulation hazard to infant and toddlers when placed within a child's reach.
Baby Monitor Safety Poster
COORDinate a Safe & Sound Zone: Monitoring Your Nursery Inside & Out

Safe Crib Guidelines
NARTS is providing this Crib Safety Checklist/Reminders handout in a printable format so you can post one in your store and also distribute this important information to consumers.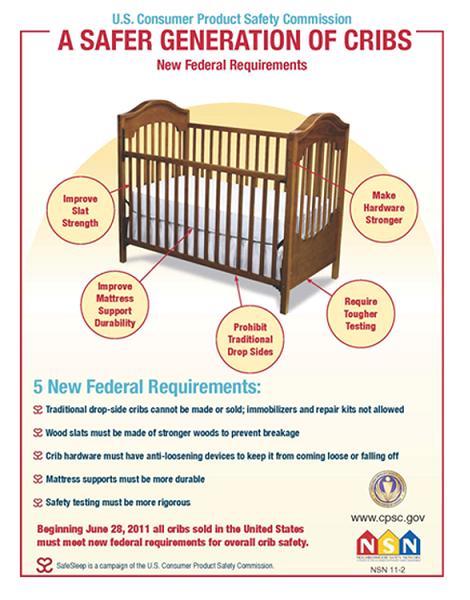 Flyer - New Federal Regulations for Cribs from CPSC - Effective June 28, 2011 — Selling a crib that does NOT meet the new federal regulations/standards is illegal. They also cannot be donated to a charity.
30 Fabulous Reuses & Repurposes for Old or Recalled Cribs Great ideas you could use in your store or pass on to your suppliers/customers.
The New Crib Standards: Questions and Answers from CPSC
Flyer - Crib Safety Guidelines We strongly suggest anyone using older cribs replace them if at all possible—especially drop-side cribs. If it is absolutely necessary to use an older crib, please read our Crib Safety Guidelines carefully.

Dangerous & Recalled Products Info...for Resale Stores
Resellers and Resale/Thrift Stores Information Center CPSC info intended to help sellers of used products understand the new law and existing regulations.
Rest Assured... while your baby sleeps 2010 Guide to Recalled Drop-Side Cribs from the Illinois Attorney General Office