FOR IMMEDIATE RELEASE
July 19, 2019
Contact: Adele R. Meyer, Executive Director
800-544-0751 or adele@narts.org

Back to School... Shop Resale for A+ Savings

St. Clair Shores, MI — The back to school shopping season is the second largest consumer spending time of the year after the winter holidays. Parents with growing children need to replace and replenish what their children had from the last school season.

The back-to-school and college shopping season is in full swing, with record spending per household expected for 2019. According to the Annual Back-to-School Survey recently released by the National Retail Federation (NRF) and Prosper Insights and Analytics, total spending for K-12 schools and college combined is projected to reach $80.7 billion, down from last year's $82.8 billion largely because of the decreased number of households with children in elementary through high school and decreased students attending college.

Families with children in elementary through high school plan to spend an average $696.70 each, up from last year's $684.79. With fewer families surveyed saying they have children in grades K-12, spending is expected to total $26.2 billion, down from last year's $27.5 billion despite the increase in per-household spending.

Clothing and accessories remains the largest spending category. Average back-to-school spending by category per family is estimated to be:
• Clothing and Accessories: $239.82
• Shoes: $135.96
• Electronics/Computers: $203.44
• School Supplies: $117.49
Back to college spending is expected to increase this year. The survey showed that the average college student will spend $976.76 (up from last year's $942.17) on new apparel, dorm furniture/accessories, school supplies, electronics and more. Total back to college spending is expected to reach $54.5 billion, down from last year's record $55.3 billion with fewer survey respondents saying they are attending college. 2019 back to college and K-12 back to school spending combined will reach $80.7 billion.

Back to school shopping is big business for merchants, but it does NOT have to break the bank account. From Kindergarten to College... students can be outfitted at resale stores for a fraction of the original price. Parents who understand value do not let back-to-school shopping sabotage their budget. Resale shops are a great source for clothing. They stock good quality, current style apparel at great prices—especially appreciated since children outgrow their clothes so quickly.

Parents who remain cautious in how and where they spend their back to school dollars this year are recognizing resale as the solution to their budget concerns. NARTS President, Neil Abramson, owner of Cutie Patutie's in Leominster, MA says, "Green is 'in' this year, but it has nothing to do with color... it's all about money. Outfitting your children for the first day of school doesn't have to break the bank. Resale shops offer a wealth of reasonably priced, trendy clothes. The affordability of resale shopping helps parents send their children back to school in style."

NARTS knows resale has been an important back to school shopping choice for decades, but the industry was not included in the National Retail Federation survey until seven years ago. "We have arrived!" said Gail Siegel, NARTS Director of Membership Services. "Inclusion in the NRF survey proves how notable the resale industry has become in retailing." The economy not only impacts how people shop... it impacts where they shop. According to the survey, up to 7% of people will shop resale this back to school shopping season.

Send your kids back to school in style by shopping smart... which means shopping resale! Here are a few tips on how to shop sensibly:

• Make a list before you go shopping. It will keep you on track and save you from impulse buying.
• Do an inventory of what you have so you can build on it by looking for coordinating pieces.
• This is also a good time to recycle clothing your child has outgrown by selling or consigning it at your favorite resale shop, giving you cash to spend on this year's clothes.
• Involve your children in the back-to-school budget and teach them to comparison shop. Help them identify their "wants and needs" then ask which items they consider "essential." Show them how they can do their part in recycling by giving clothes a second life.
• Play stylist with your children... trying to create as many looks as possible with a few pieces. Many outfit combinations can be created by layering.
• Get started early and visit your favorite resale shops often as new things come in every day.
• Shop during the state sales tax holiday—if your state has one. In some state's, the tax holiday coincides with back to school shopping time.
• You do not have to buy everything at once. A few new outfits will get your children started and gives them time to access the trends. You can add during the year as you discover great new bargains at your favorite resale shop.
• Shop at resale stores for clothes and accessories. Remember... always look for the NARTS decal. It is Your Assurance of Resale Professionalism.

"It is not unusual to see price tags of $100 or more on an outfit at a department store. Why spend $100 when you can spend $25 or less for the same or higher quality goods?" asks Adele Meyer, NARTS Executive Director. "Resale offers a practical way to outfit your children while watching those savings add up."

Clothes are only the beginning of the back to school shopping list. Other things you can save money on by shopping resale include computers/electronics, musical instruments, dance wear and sports equipment for extra curricular activities.

Trendy teens have embraced resale shopping in a big way! They are trying to save money... and help the environment. Whether they are looking for name brands in good condition or the popular vintage accessories, there is a resale shop to meet their taste. Teens are savvy shoppers who realize the importance of value and quality. A lot of young people these days want to take something unique and make it their own style, so resale shops can really cater to them.

Teenagers plan to spend an average of $36.71 of their own money for apparel, accessories and supplies this year, while preteens plan to spend $26.40. Since many pre-teens and teens will be paying out of their own wallets for back to school shopping this year, they have also become suppliers to the industry, selling their clothes to local resale shops for cash. And even if they are not spending most of their own money, they have quite a say in what is purchased. According to the NRF survey, parents say their children influence more than half of back to school purchases.

Dorm decorating has taken on a new life as college students become very ingenious at making use of their dorm room space. They have an eye for getting the most out of their limited space, while creating a place to call home. The basic and necessary items for dorm rooms include stackable crates, boxes and baskets, which provide storage that is visually appealing.

College students and their parents, who are already spending thousands on increased tuition/housing, will be looking for more ways to stretch their budgets this year. Equipping a college student does not have to be a wallet-draining ordeal. Resale stores specializing in furniture, decor, small appliances, bedding and accessories are brimming with treasures to furnish dorm rooms on an affordable budget. Here are a few tips to make dorm decorating personal:
• Look around and shop early. Keep an eye out for deals the summer before heading to school.
• Use floor to ceiling storage—make all the space usable.
• Don't be afraid to try something different than everyone else is doing.
• Make your room comfortable—it is where you will be living for nine months.
• Distinguish a study area from the living space by using a bed or curtains as a visual divider.
• Make sure nothing is permanent. Then, you can rearrange as the spirit moves you.
• Shop at resale stores for furniture and accessories. Paint or refurbish your bargains with fabric if necessary.

Look for the NARTS Decal
It is Your Assurance of Resale Professionalism.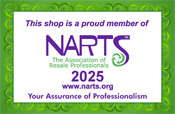 Brand new or barely used? Retail or resale?
Full price or a fraction of the original cost?
Only the savvy resale shopper knows for sure!
###
NARTS, the world's largest resale trade association, is dedicated to continuing education within the resale industry. The Association serves resale shops of all types by providing educational and professional development for future owners and current store owners/managers. Please visit the NARTS Website at: www.narts.org for more information.