Coronavirus and the Resale Industry
This unprecedented situation has no manual or guidebook...we are in it together, figuring it out on a day-by-day or even hour-by-hour basis. Our priority is to offer support and help resale professionals through these difficult and uncertain times, however we can.
NARTS has created this page as a resource for the resale industry. We are sharing videos, Webinars, links and other information from our Members Only FB group with the entire industry.
What is Happening in our FB Group?
♦ Every Wednesday & Sunday at 8 PM ish EST, NARTS Board Member, Neil Abramson, is Live to answer questions he receives during the day including updates on SBA Disaster Loans, Unemployment Insurance, Handling Consignment Payouts. CARES Act and other hot topics of the day.
All of the above videos are posted to YouTube the next day
and are available to the entire resale industry HERE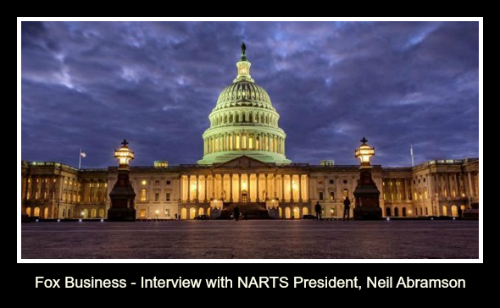 Links to Websites & Articles of Interest
♦ When It Comes to Living with Uncertainty - Michael J Fox - New York Times
♦ VISA Small Business Hub - COVID-19 Resources to Help Your Business
♦ Store Cleaning Posters - Traxia/Simple Consign
♦ Welcome Back Shoppers Posters - Traxia/Simple Consign
♦ Discount for Social Distancing Posters - Traxia/Simple Consign
♦ Free Printable Templates for Coronavirus Signage - StampStoreFixtures.com
♦ Free Printable Templates for Coronavirus Signage - PlumGroveInc.com
♦ Free Printable Templates for Coronavirus Signage - Displays2Go.com
♦ Free Printable Templates for Coronavirus Signage - Signs.com
♦ Liquidity: The Single Biggest Issue Facing Retail - NFR - to modify net operating loss provision in CARES Act.

♦ Save the Postal Service - NRF Campaign to get the Postal Service the funding it needs to avoid quadrupling rates.
♦ Contact Congress and tell them to help retail now! - NRF Campaign. It is quick and easy.
♦ Chamber of Commerce - Coronavirus Small Business Guide - 25 Articles (Updated Daily)
♦ The National Law Review - Paycheck Protection Program, a SBA Loan Program Expanded in CARES Act (3/28/20)
♦ Baker Law - FAQs: The Family First Coronavirus Response Act for Employers (3/27/20)
♦ Wilson Sonsini Law - Covid-19 Employment Law Update (3/19/20)
♦ Katten Law - The CARES Act Stimulus Bill (3/27/20)
♦ The Computer Peeps - Instagram Tips (3/28/20)

♦ LePrix Wholesale - COVID-19 Survival Kit (3/27/20)
♦ Monkeys in Hats - When Life Gives You Lemons . . . Build a Lemon Empire (3/30/20)
♦ Forbes.com - Small Business Relief Tracker including Info on City/State Loans & Grants (3/20/20)
♦ MarketWatch - Does washing clothes prevent the spread of Coronavirus? (3/28/20)
♦ Bambee HR - Scroll Down to . . . Common Q & A's for HR Assistance
♦ GoDaddy - 10 Ways for Small Businesses to Weather Covid-19 (3/19/20)
Webinars, Videos, Blogs, Podcasts & FB Groups
♦ Jennie Walker interviews Neil Abramson - Discussion on the Federal CARES Act and the PPP
♦ Monkeys in Hats - Consignment Marketing
♦ Monkeys in Hats - How To Be Successful with Shopify
♦ AngieKaye.com - "Shop Online" Free Graphics
♦ Marcus Lemonis - Overview of CARES Act Video
♦ LePrix - COVID-19 Survival Kit
♦ TapMango - Thriving During the Pandemic
♦ GoFundMe - Small Business Relief Initiative & Fund FAQs
♦ Traxia - Elevar - Turn Your Shopify Store into a Sales Powerhouse
Links to Grants/Loans from Companies
♦ FedEx #SupportSmallBusiness Grants - Entry Period: 2/16/21 to 3/9/21
♦ FB Small Business Grants Program
♦ Mailchimp Business Support Fund
♦ Constant Contact Small Business Support Kit
♦ Entrepreneur.com - 55 Federal, State and Nonprofit Relief Funds
♦ Hello Alice - $10,000 Grants
♦ Virginia 30 Day Fund - Forgivable Loans
♦ The Red Backpack Fund by The Spanx by Sara Blakely Foundation
1,000 Grants of $5,000 each to female entrepreneurs in the U.S.
Sign up to be notified when the application comes out on April 6th.
Why Join NARTS?
We know that operating a resale shop right now is challenging, so we invite you to join NARTS: The Association of Resale Professionals where you can find encouragement, share challenges and learn about new developments that effect the resale industry first. As we are all determined to "get to the other side" of this Pandemic, membership is even more important. Just a few member benefits are:
Our monthly newsletter is filled with resale relevant articles. This month there were topics specifically addressing the current situation...they were inspiring, encouraging articles—written from the heart—by resalers going through what you are experiencing. They understand!
Our Members Only FB group will be invaluable to you. In addition to the videos we are sharing on YouTube, there are new topics and questions posted daily by your peers...which are of the utmost important during this unprecedented time. Just a few of the current topics:
• What to display in your windows during temporary closures.
• How and what to communicate to your customer/suppliers.
• Creative ways to engage online with your customers.
• Online sales - how shops are continuing to get revenue.
By maintaining membership in a community of your peers, you'll find a comfortable place to get advice for unique situations and help to solve your problems. Membership in NARTS is a commitment to professionalism, continuing education and expansion of the resale industry.
Click Here to view our Membership Benefits
Click Here to join NARTS with our Special Offer Application
Let's get through this together and stay #ResaleStrong.

Please check back, we will update as new information and resources become available.
Disclaimer: Statements of fact and opinion in links we provided on this Webpage are the responsibility of the authors alone and do not imply an opinion on the part of the Association and do not constitute legal or tax advice.