How To Shop Resale
Always look for the NARTS membership decal when you deal in resale... it's your assurance of a professionally run, ethical resale shop.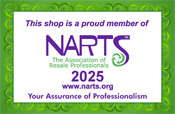 Explore all the resale shops in your area to find which shops suit you best. Each shop has its own personality, so you're bound to find several favorites! Shop often for the best selection. Resale shops have a constantly changing inventory.
Prepare for a productive shopping trip. Know the sizes and colors you'll need:
For children's clothes, carry a garment for comparison.
Measure and note the available space for furniture so your purchase will fit.
Bring garments and color swatches to help you coordinate everything.
Get to know the sales staff. NARTS shops specialize in personal service and often maintain "wish lists." Many will call when your favorites arrive. Get on the mailing list... that way you'll get first notice of special promotions, events and sales.
Be flexible. Don't limit yourself by looking for a specific item or you may miss a great buy. Check out all sizes! Different brands are cut differently and remember, better-quality items are often cut more generously. There is also the possibility that garments have been altered...so always try items on before buying. Consider wearing a leotard, so you won't have to wait for a dressing room during busy times.
Look your items over carefully. Some shops have a policy of "All Sales Final", so be sure you like what you're buying. Shop owners are careful to pre-select their stock for quality and minimal wear, but you should make your own evaluation. If you are unsure of your selection ask if the store has an "approval system" so you can return the item if it is not quite right.
Don't be in a rush when shopping. Resale stores have so much to look at and offer such great prices, you will want to take your time so you don't miss any treasures.
Don't worry about the original owner seeing you in clothes you bought at a resale shop. No manufacturer ever made just one of anything!
Complete your purchase with the proper accessories which are available at a fraction of their original cost!
When you see something that calls out to you - BUY IT!
Chances are it won't be there the next time you visit.