FOR IMMEDIATE RELEASE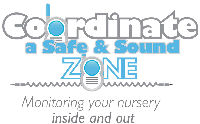 September 20, 2012
Contact: Adele R. Meyer, Executive Director
586.294.6700 or adele@narts.org

COORDinate a Safe & Sound Zone: Monitoring Your Nursery Inside & Out
NARTS and Juvenile Products Manufacturers Association (JPMA) Initiative
Alerts Parents and Caregivers How to Safely Use Baby Monitors

St. Clair Shores, MI – Line cords on nursery items, such as baby monitors, can create a potential hazard if not properly placed. As a preventative measure, NARTS has joined the Juvenile Products Manufacturers Association (JPMA) of Mount Laurel, NJ, in an awareness campaign to alert parents and caregivers how to properly use and position baby monitors and other line cords in the nursery.
The safety campaign kicked off with the launch of a website dedicated to baby monitor safety, www.BabyMonitorSafety.org. Through this portal parents and caregivers can access baby monitor safety tips, advisories and a public safety video in English and Spanish demonstrating safe baby monitor use. Parents and caregivers are also given the option to request free safety warning labels direct from manufacturers to affix to their monitor cord.
"NARTS urges parents and caregivers to visit www.BabyMonitorSafety.org and utilize the safety and resources tools provided," said Adele Meyer, Executive Director. "NARTS is hopeful that public awareness will decrease the number of line cord injuries sustained by infants and toddlers."
In an effort to prevent infants and toddlers from strangling in monitor cords, NARTS and JPMA urge parents and caregivers to:
Immediately check the location of all monitors and other products with electrical cords, including those mounted on the wall, to make sure cords are out of your child's reach.
Place monitor and other cords at least three feet away from any part of the crib, bassinet, play yard, or other safe sleep environment.
Never position a monitor inside or on the edge of a crib.
Remember, at least three feet away is where your monitor should stay.
# # #
About NARTS
Established in 1984, NARTS, the world's largest resale trade association, is dedicated to continuing education within the resale industry. The Association serves resale shops of all types by providing educational and professional development for future owners and current store owners/managers. NARTS is committed to product safety, educating both consumers and store operators on how to identify previously recalled or banned products and any products that do not meet current safety standards. Please visit the NARTS Website at: www.narts.org for more information.
About the Juvenile Products Manufacturers Association
The Juvenile Products Manufacturers Association (JPMA) is a national trade organization of more than 250 companies in the United States, Canada and Mexico. JPMA exists to advance the interests, growth and well-being of North American prenatal to preschool product manufacturers, importers and distributors marketing under their own brands to consumers. It does so through advocacy, public relations, information sharing, product performance certification and business development assistance conducted with appreciation for the needs of parents, children and retailers. Each year, JPMA sponsors Baby Safety Month in September to educate parents and caregivers on the importance of the safe use and selection of juvenile products. To find out more information about the JPMA Certification Program, the products certified and for a complete listing of JPMA members, please visit www.jpma.org. Follow JPMA on Twitter @JPMA, connect with JPMA on Facebook or on YouTube and visit www.jpma.org to learn more about additional safety tips and other JPMA initiatives.