How to Prepare Your Items for Resale
What do you do with all those possessions that are perfectly fine, but you don't have use for any more? Recycle them! How many times have you said, "This is too good to throw away. I wish I knew someone who could use it."
Your local resale or consignment shop has the customers to help you clear out your closets and make some money too. It's almost like having a money tree where you can pick up a few extra dollars if you'll take a few extra steps.
Before you get your items ready for resale, contact your favorite shop to learn how they operate. Select the shop you will use with care. Does the shop consign or buy outright? Do they have the customers who want what you have to sell? Shop owners and managers can give you a good idea of the items they have the most demand for and what type and age of merchandise they accept. If the shop doesn't sell what you want to recycle, ask for the name of a store whose clientele is looking for just that item.
Know how the shop will handle your items: How will they be priced? How long will they be displayed for sale? How and when will you be paid?
Also ask when is the best time to bring in seasonal items. Consigning or selling seasonal items at the optimal time will improve your chances for the fastest sale at the best price.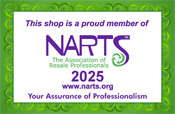 Always look for the NARTS membership decal when you deal in resale . . . it's your assurance of a professionally run, ethical resale shop.

Make your articles sparkle with customer appeal! Clean, fresh merchandise will get you the best return:
Clothing items must be spotless and fresh-smelling. A quick pressing will get you the best price.
For household items, dust and polish. Wash glassware with a little vinegar to add extra brightness.
If you are taking in a set of dishes or a child's game, make sure all the necessary parts are included.
Small repairs go a long way. A few minutes of time can result in a more desirable resale item.
If your resale shop cannot accept some of your items, they will let you know. Please don't take a "No, Thank you" personally. Shop owners and managers are professional experts. They will not accept items they won't be able to sell for you.
Keep in touch with your shop. Is it time to bring in the next season's items?
Ask questions if there is anything you don't understand.
And finally . . . replace your unwanted items with new-to-you bargains!